THE PROMISE OF HEAT
Well as we are set for blistering spring sun this next few days I thought I'd get down to the allotment in early this morning. On the plot and working by 7am it was bliss to have a calm space amongst the wildwood behind and hear nothing but birds and the odd dog barking (not my Tilly though you understand - she is a good girl.)
BEFORE & AFTER ON THE LOTTY
Here are some pictures of allotments below. I hope you like the before and after ones. We like to look back on them to see our progress...but we will be leaving a lot of wild untouched areas for nature.
Before steps put in we had this slippery bank
My man and his friend (and I) put in these steps - what a difference
Digging over a nice patch to have as my flower border
Keeping the cats off it! Today I enriched it with chicken poo pellets and a nice man on the allotments said I can have a barrow full of his real chicken compost!
MY PLACE TO TRY MINDFUL GARDENING
I made many back-breaking trips up and down the plot to our natural springwater pond to dunk in the bucket and then pour it into the two awaiting watering cans.
I consciously made myself slow down as I dipped the bucket into the pond and watched as the stream of water poured into the can. Too often we just hurry through tasks.
My task now is to try and be more mindful of the ordinary things as there is joy to be had there. I tried to fish out any floating debris as I noticed after my first watering round that my newly purchased fine brass rose was clogging up.
Developing the art of mindful gardening is something I have long wished to be able to do and since acquiring this allotment near me last autumn I can do just that. As I wrote this article I came across this delightful-looking book. I have also read Ark Redwood's book - The Art of Mindful Gardening - which is a sweet and soothing read full of calm wisdom -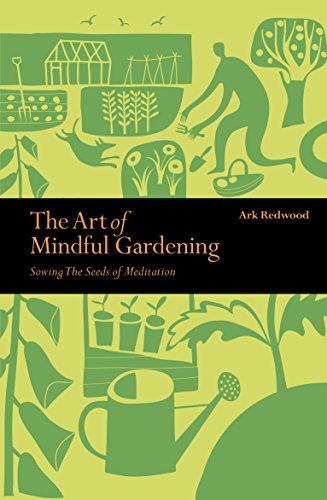 GIVING THE OLD SOIL A RICH TREAT
The soil in this garden is 80 years old (plus a few millennia)and more and has had many tenants. For the last 10 years it has had brambles so I felt she deserved a rich treat of fertiliser - natural chicken poo:)
I scattered a big tub of chicken poo pellets all over feeling like a medieval farmer of old as I cast the pellets about. Then I raked them around a bit and finally watered them in. They started to dissolve and swell and today they will be warmed by a hot sun.
I have been itching to do this for a few weeks now but there was so much rooting/weeding work to do first. I really have learned how to break up soil clumps!
So now we are all set for some planting in a week or two. I want to wait for the right cycle of the moon to do that. I've looked at a site called gardening by the moon uk to see about all that - it sounds good and I hope it will help with watering...
Then I had also planted a few pansies yesterday and so gave them a good glug of water ready for the heat. I have planted them randomly up the garden path so they'll raise a smile as we walk past them.
PLUG MY FEET INTO THE SOIL FOR A RECHARGE
It occurred to me that I should have a square metre patch of soil just kept for me to stand barefoot in the warmer weather to act as an earth energy pad where I can just stand barefoot and absorb the earth's energies and maybe do some Tai Chi...and get some earth energy balance into my body and mind...like and earth energy spiritual practice.
QUESTION dear Potterers - Do you follow the moon cycles for your garden?
I just discovered a lovely site all about bookbinding.
It is called Paperwilds and the name instantly appealed to me as I love paper, journals and anything wild.
Here is their site link - https://www.paperwilds.co.uk/
Do you like journalling? What do you journal about and what type of book do you have?